Matthew 12:15 tells us that Jesus withdrew because the Pharisees were plotting to kill Him.  Thankfully our lives are not in danger (that I know of!) but I am struck by Jesus making a get-away.  Since moving to Duluth, I don't know where to flee when I want to get away.  Writing has always been an escape in the past.  And now that my kids are starting to have normal sleeping patterns, perhaps I might just have time to pick up my pen again… or my laptop.  I'd rather have a pen, but a girl can't have everything.
We are vain enough to think that there might be a few of you who might like to read about us from time to time.  We have some friends who have done the blog thing and it seems to work for missionaries especially.
So here goes… Life as an Asker
I've been frustrated with Calista's hair for some time.  It's so long that we were often:
pulling it out of her zipper on her coat/PJs
catching it in her car seat buckle
cleaning yogurt/syrup/oatmeal/food of choice out of it after she turned her head and drug her hair over her bowl
using my conditioner so we could get a comb through it
So this week, she started to say, "Mommy, cut my hair so it's like yours."  Then she'd gather it all up on top of her head.   I cut Brian's hair and do a decent job.  I also gave Elam a spiffy monk/Beatles look a while back so what could possibly go wrong?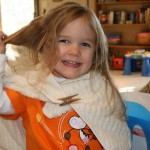 Today was the day: I grabbed the scissors; clipped a towel with a clothespin around her neck, put her in the kitchen and made my first cut.  Huh, that wasn't so bad.  I made my way around to the back and that is where the trouble started. Eventually, the shoulder-length cut started to look more like a bob…chin-length.  After only a short time and an attempt by Brian to fix it, I called the local salon.
5 minutes later, Missy was fixing what Mommy had started.  Calista sat still as a statue and Missy thought she was shy (anyone else laughing at that?).  I told Missy she was probably just in shock.  10 minutes ago I had been curled up in the fetal position, confident I was about to ruin Calista's beautiful hair.  No, not shy.  Just waiting for a sucker and getting home to play with trains.
Here's introducing Calista, freshly cut with her first, big-girl hair cut.  By a professional.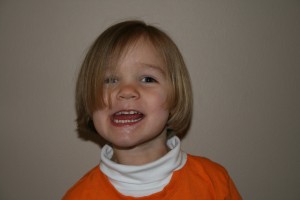 Blog number one, complete.  Come back soon for the next installment of Life as an Asker.  I need to go, Elam's hair is getting a bit long in the front…