Chase is a new theme around here.  First we have Chase Gomez staying in our basement.  The kids love him.  He biked home today and immediately, Elam says, "Chase, do you want to see me ride my bike just like you?"  This meant he stood up on his pedals just like the big kids.
Chase is also the name of a new Bible study I started today.**  It asks some very uncomfortable questions in the introduction.  (So much for my plugging this study… not for the faint of heart.)  It asks what our minds focus on, what excites us and what we think we are truly chasing – godly or otherwise.
I'll probably focus on some negative later this summer but tonight I did think I am truly chasing new things.  Take today for instance: I tried to make homemade strawberry lemonade popsicles.  Real lemons.  No zester tool in the house but my fingernails smelled great afterwards.  Loads of sugar (don't tell our guests coming for dinner tomorrow).  The juice was ok.  Elam didn't like it.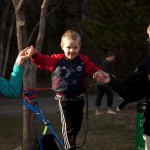 I also tried to make yogurt.  I am obsessed lately with plain Greek yogurt: Fage from Sam's Club.  OBSESSED.  With my homemade granola, fresh strawberries and dried blueberries.  I even packed blueberries and granola 4000+ miles to and from FL for said obsession (We shall deal with my food and diet obsessions later, thank you very much).  Craving some now actually…9:00pm…
The yogurt is in my crock pot, hopefully thickening nicely, waiting to be drained in the morning.  If it fails, there goes some cash and a gallon of milk.  No risk, no reward.
(I'd insert a photo here but it would entail a pile of towels wrapped around a crock pot.  Unfun pic.)
The biggest risk I'm taking this summer is to take a leave of absence from IV.  It means leaving an identity as a teacher, trainer and valued leader.  It means leaving friends and opportunities for my career to advance.  It means ignoring the FB posts about previewing IVPress manuscripts, fall conference teaching gigs and … I need to stop thinking of what all I am leaving behind.
It also means I get to be a part of a summer Bible study without any other commitments.  It means I can go to the Y with my kids, then the playground and explore hills and new playgrounds with the kids.  Wearing a skirt while gardening (nope, no picture of this either – sad face).  Having a block party.  It means sunscreen in the van, always having enough water for said adventures and definitely apples.
So what are you chasing today?  I think I'm going to check on my yogurt…
**see jennie allen "chase"
**Lakeview Covenant Church will host this study on Wednesdays starting June 26: free child care and coffee!