Brian spent last week serving about 16,000 participants at a huge missions conference, hanging out with Christian celebrities backstage.  He ate salmon, was a bouncer for Francis Chan and sat down with David Platt.  He took a selfie with Michelle Higgins and rubbed shoulders with those who ran the entire conference.
Meanwhile, I helped draw wombats and made lunch for 3 kids off from school.
Thankfully Urbana did live streaming of their Bible exposition, worship time and most speakers.  I would turn it on, get lunch ready and we would watch around the table.  Or before bed I would let Elam listen to world changers leading mission organizations and serving overseas.
As I sat at home, wiping noses, vacuuming, assembling Legos and trekking through the zoo with the kids, I would ponder the call to GO! that so many were hearing at Urbana.  I would hear speakers challenging us to befriend others, serve in the forgotten locations and fight for justice.  I would get riled up and use Twitter and Facebook to try and get into the action, only to get pulled back when a kid needed more toilet paper.
Brian got home Friday and of course, the conversations over the weekend focused on resolutions and new year's plans.  With Urbana in his rear view mirror, he would mention unreached people groups or the possibility of our moving one day…
Then today as we headed to the Y, after dropping all the kids off at school, just a typical Monday… I said, "I wonder how many times God just simply calls us to be more faithful where we already are.  Maybe it's easier to go for some people than to stay put and go deeper."
Many church fathers and mothers found the secret to peeling potatoes, being faithful where they are even when it was boring.  Many of you maybe have too.
But darn it, I have visions of grandeur, big dreams and hopes for my life.  And they surpass slicing another apple (! somebody buy us an orchard some day would you!?), finding matching pairs of socks and making eye doctor appointments.
Yet here I am, choosing to stick with what we have felt called to for a while, here in Duluth.  Loving our elementary school, our many friends at the YMCA who push me to run faster, lift with better form and set me up RIGHT IN FRONT, our wonderful church full of friends who love us and trust us with their children.  It is not a hard life by any means but sometimes I feel the pull to dreaming about other things, bigger things…
Maybe you are being called to go, make a big change or have lofty goals in 2016.  Do it, if that is what the Lord is calling you to.  BUT if not, I would call you to listen to that still small voice that calls you to be kind to the parking ramp guy, invite your lonely widowed neighbor lady for tea and share Jesus with the kid whose mom is never around for her.  Those might just change your life, or even someone else's this year.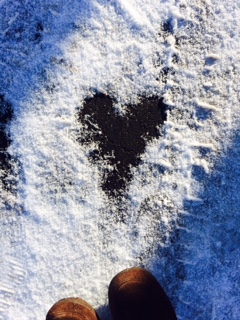 This heart showed up today in our driveway. To our knowledge, no one drew it.  The sun just melted the snow into this pattern.
Our memory verse this week is Psalm 145:8 and I do wonder if God had a hand in all of this simple, mundane call to obedience of late.
"The Lord is gracious and merciful, slow to anger and abounding in steadfast love."