In lieu of a traditional Christmas letter, the techno-savvy Askers would like to say Merry Christmas via their blog. What a year! I was thinking of all of the changes we've experienced in a year:
Elam was born 2 weeks early via c-section December 7. We hosted tons of family over the holidays in Bemidji. The snow and cold didn't keep them away and it was great to be the hosts over Christmas and New Year's.
Sandi changed positions with IVCF and became an administrator, allowing her to stay home more with the 2 kids.
Brian headed out to leadership camp in South Dakota sans family. He hired a new intern for Bemidji State and a new staff for the Twin Ports (this December!).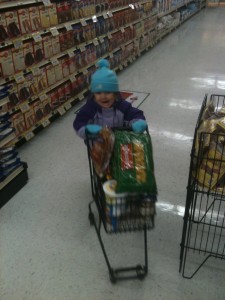 Calista graduated to a big-girl bed, donated by a prayer team that supports us in the Brainerd Lakes area. She was potty-trained and got a drastic haircut. And she grows by leaps and bounds daily with words and letters. We were driving yesterday by a truck and she said, "Mom! That's for Elam!" Sure enough, the semi had a huge letter "E" painted on it.
Elam changes daily as well. He is working on "words" and walking, Elam-style. He cruises on furniture and when we help him, he sidesteps. Elam also loves to imitate Calista. The other day, I was sweeping and Calista was helping with her broom. Elam found the small dustpan and brush and joined in. Love it.  He makes us laugh all of the time – check out our Buckethead:
We joined our new church in Duluth, Lakeview Covenant this fall. We LOVE this church. Sandi is involved in a MOPS group and weekly Bible study.
We keep working to get our house suited for our needs of having students over weekly, hosting play dates and the occasional dinner for new friends. We are growing to love the Duluth area and our neighborhood.
What has not changed is our commitment to college students and to our own development as followers of Jesus.
Here is a little Merry Christmas from Calista.