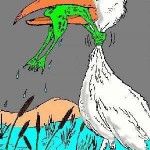 I remember this poster from my high school days. Not sure what hope that poor frog actually has and how it is supposed to inspire us, but nevertheless, here on Google images, it still lives. Underneath it is supposed to say "Don't give up."
Something similar to this has become a moniker of sorts for me lately – don't give in.
Examples:
I refuse to pay for someone else to shred my cheese (most of the time the shredded cheese is ridiculously more expensive than the blocks).
I refuse to go disposable diapers even though Elam's poop is getting really gross!
I refuse to get worked up about how little or often I get to work out. Just not gonna' do it.
I refuse to worry about what others think of me: we don't do halloween for instance. Or we only do fair trade chocolate because of child slave labor. Or we try to buy clothes from companies that don't use unfair practices. I'm not saving the world, but every little bit helps!
We refused to give in to the idea that we "need" two cars. My parents' generosity and some awesome trade ins, plus savings has brought us a fantastic van. Brian and I just get to communicate very clearly about our daily plans and need!
We refuse to give into materialism in new ways this Christmas, by the grace of God, and are doing a lot of donations as gifts this year for the first time.
Lastly, we refuse to live a sheltered life up here in the the 'burbs of Duluth. We get out of our bubble, are lining up volunteering in an outreach center downtown with our kids and try try try to influence others to do the same. We just don't want to only be worried about "protecting" our children. We want to learn about the pain in our world. Learn about sex trafficking.
I am working on a graduate degree at Wheaton College. The intercultural studies department, of which I am a part, just made t-shirts. Super sweet quote from Henri Nouwen is on the back:
the spiritual life does not remove us from the world
but leads us deeper into it.
Shane Claiborne also said in a talk I heard recently this: "Maybe when you came to Jesus He cleaned up your life and made it great. Praise God! But ever since I became a Christian, He has done nothing but mess me up!"
I think it's high time we all invited God to mess us up! Don't give in to the world's ideas of goodness! Don't give up!
Our family has chosen some simple things to do and I think it's so small compared to the world's needs. And this isn't meant to be a brag list. I'm trying to learn how to not give in and want to go deeper in the world, finding the needs and not giving up while joining God is what He is doing to bring Shalom/peace. Challenge me! Tell me how you are refusing to give in.
"I have told you these things, so that in me you may have peace. In this world you will have trouble. But take heart! I have overcome the world." — Jesus