We were visiting my sister and brother in the twin cites when we said yes to adoption.  It was January of 2012.  Sandi was out for a morning run.  Praying as she ran, she was asking God if we should adopt. As she rounded the corner, a sign on a bus stop bench read "You Can Adopt!"
I wasn't convinced quite yet, but that evening, my brother was eager to show us his new home theater system.  As it turned out, the movie we watched was "Despicable Me."  If you haven't seen it, a mastermind criminal adopts three girls. It's a cute movie. I won't spoil the rest.  Sandi and I looked at each other in amazement.  Who would have thought that God would use a movie to confirm our question.
When Gru, the main character in Despicable Me, brings the girls home, he didn't have a clue what to do.  When Tobiah Xuan Song Asker entered the sterile government room, I didn't know what to do either.  He just sat on the bench, looking at us. The orphanage director and his teacher encouraged him, but he sat.
Fortunately the director began showing us his belongings and gave us a bunch of pictures of his life in the orphanage, including several stories.  Including the story of the police officer who found him and whom he is partly named after.  Apparently Xuan Song is a local hero. His story and the police officer were on TV and in the newspaper. We received a copy of the article and pictures of the newscast.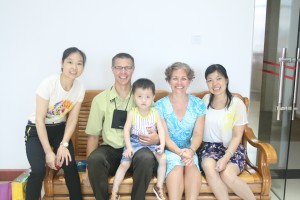 In the midst of story time I remembered some helpful tools from all of the books we read in preparation.  The most helpful was mirroring.  As I began to mirror his actions, he began to open up.  Sandi pulled out some matchbox cars and soon we were both moving the cars across the bumpy bench.  By the time we left the government building, he was sitting in my lap.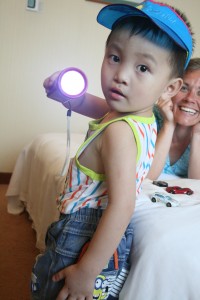 Back at the hotel we continued to connect. We played with a flash light.  And then I noticed it…
On the back of his pants were two little minions from the movie "Despicable Me!"
God sure has a sense of humor.
Congratulations Tobiah, you're an Asker!
We love you!
A youtube video, reading a book: http://youtu.be/ynGAFZtrny8