Last night I went to pick up my race packet at the DECC for the "wheels off half marathon."  This weekend has held the inline marathon, half marathon and 10K for years, but the half is sort of a new deal.
Well, I entered the big exhibition filled hall and seriously, it was like being at a trekkie convention, but I don't watch Star Trek.  I'm normally running when that show is on.
There were booths selling in line skates, hats, ear phones, snacks and full body, inline skate suits.  People who looked like they would more likely be on motorcycles filled the hall.  Then there were the 'tweens standing with their parents.  Or others who apparently couldn't wait to strap on their wheels and were skating a bit around the edges, helmets and all.
This morning it was dark as pitch at 5:15am when I left the house.  It was a BRISK maybe 30 degrees.  I was wearing double layers of everything with extra layers in my handsome race bag provided by the race (imagine a large black garbage back with a cardboard sign with my bib #).  I ate my granola in the dark, hoping to get it into my mouth, while I forgot that when I eat driving down hill, my ears clog.
I raced to park in the aquarium lot (free for members!) and was surprised to find the parking lady already there, making sure no freeloaders snuck in.  (Huh, spell check doesn't like "snuck."  Sneaked?)  I asked her what short stick she drew for that job today.
Once I jumped on the shuttle bus, I sat next to the lady I recognized from the night before, picking up my packet.  We discovered our kids were in Kindergarten class together, she lived blocks away and next door to another of Calista's best friends.  Small world.
We shivered in the bus as they must have felt the need to "acclimate" us to the temps.  It was like the AC was FULL ON.
At the start, there were 1/2 marathon in-line skaters and runners all mingled together.  At first it was so dark, I almost got run into by a skater.  That continued to happen as I peed 3-4 times, met 2 students and tried to keep myself loose before starting to run.  I heard personal trainers in my head "relax your shoulders" "keep space between your ears and your shoulders."  I think I was hunched for 45 minutes at least and eventually couldn't feel my toes.
It wasn't until mile 5, almost an hour of sunshine and a fairly normal pace for me that I started to warm up.  I was grateful for the thick hat, my gloves and the warm sun on my back as the wind came off the Lake for most of the time.
We got to run the I-35 tunnels.  The road had lines it in and after 10 miles of sunshine, a few crappy nights' sleep and running 10 miles, I almost felt dizzy.  The kids, Brian and my parents saw me at mile 10.5 and again at the finish.  I ran over the finish line with my arms up and gave a "whoo-hoo" when the announcer said my name.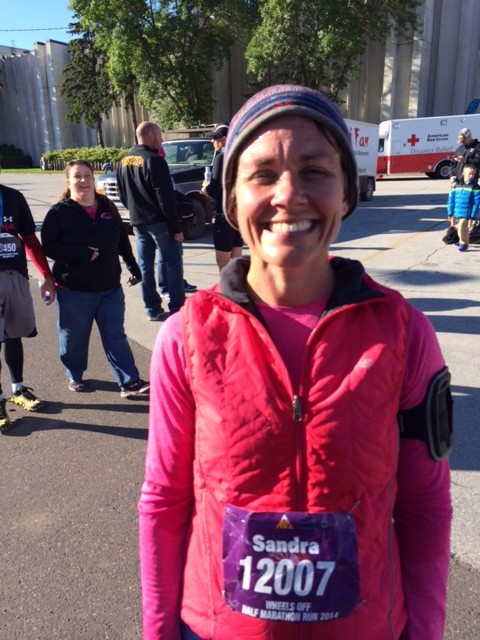 This race gave me a goal all those mornings I hit the pavement, desperate for a break from this crazy family life I'm leading.  It gave me space to myself each Saturday morning during my long runs.
Now what am I going to do?!