Just when I think we're close.  Passports, medical forms, letters of recommendation, new birth certificates, marriage certificate… are you bored yet?  I think I am too.  We have been walking through small hills of paperwork (see pic) and I was feeling like we were close!  Not to traveling to China, but with our first marathon of paperwork…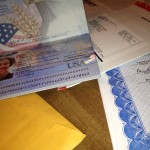 Then, we read the fine print.  Yet another document needs to be sent in to some random office with of course, a $720 fee.  As I type, Brian keeps telling me about finger printing and some other requirements that we may or may not have.  I'm done.
I feel like the bummer spouse.  I had to get a special birth certificate because I was born overseas.  I have to "prove" I'm a US citizen.  I have a 'history of counseling' (10 years ago I went to therapy thank you very much) so I got to be tested and spend a few extra hundred dollars for a perfect stranger to tell me and strangers in China, MN and Michigan that I am sane and able to take in another child.  Even my passport cost more because my old one had my maiden name.
I imagine struggling with infertility or poverty, AIDS or earthquakes is much more serious and I should get over it.  I will in a minute.  After I type a few things out…
Soon, I trust I'll snuggle with our Asker in China and forget these nights, I hope (although I've heard the paperwork after we receive said child doesn't stop in the stupidity department).
Until then, a bowl of Life cereal, a banana and a cup of tea will suffice.  Oh yeah, and the fact that I have given up, headed to blogging while Brian calmly reads through the fine print.
Stay tuned!